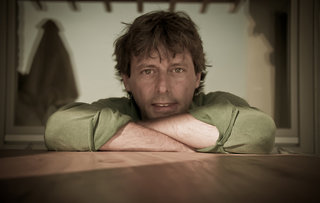 BIOGRAPHY
Mimmi Moretti, whose real name is Domenico, was born in Catania in 1966. A few months later the family moved to Paris. It was in the French capital that he was culturally raised and where he began to take pictures, and thanks to his uncle, to familiarize himself with the darkroom. At the age of 20, he started working as a freelance photographer, collaborating with a few magazines.
He left college before graduating to work for a German multinational company. A few years later he left that to pursue his own entrepreneurial endeavors during the dot-com business boom. Towards the late 90s, he returned to photography and began experimenting with the new digital photographic technology that was dawning and definitively made the transition to digital photography in 2002. It was in 2014 that he first displayed his photographs in a collective exhibit in London.
He loves to range from varying subjects and themes, even if, at the moment, he prefers industrial architecture and societal subject matter. He is always attracted to technical experimentation and he is always, continuously developing different and original styles. His studies in Humanities have often influenced his main projects.
Exhibitions
2022 Trieste Photo Days – Poste centrali – Trieste
2022 Trieste Photo Days – Museo del Territorio – Cormons
2022 Trieste Photo Days – Aeroporto di Trieste
2021 Trieste Photo Days – Museo del Territorio – Cormons
2021 Venice Photo Lab –
UNISVE
- Venice
2021
MIA PHOTO FAIR
- Milan
2021 Treviso Photographic Festival – Convento di S. Francesco – Treviso
2021 Milano Photofestival – Auditorium Stefano Cerri – Milan
2021 Scatti per bene charity auction, Sotheby's, Spazio
MUST
- Milan
2019 Scatti per bene charity auction, Sotheby's, Spazio
MUST
- Milan
2019 Scusate il disturbo charity auction, Sotheby's,
PAC
Pavilion of Contemporary Art – Milan
2019 Turbans d'été – Aldrovandi Villa Borghese – Rome
2019
I 15
Anni della Galleria Federica Ghizzoni – Milan
2019 Lucca Art Fair – Lucca
2019
MIA PHOTO FAIR
- Milan
2018 Palazzo della Corgna – Città della Pieve
2017 Neoclassica Art Gallery – Milan
2017 La stanza del vento – Montemarcello
2017
MIA PHOTO FAIR
- Milan
2015 C.A.T.S. ArtePadova Fair
2015 Exposure Award Reception, Louvre – Paris
2015 Archivio di Stato, Campo dei Frari – Venice
2015 RomArt Biennale Internazionale Arte e Cultura – Rome
2014
SCOPE
Art Miami – SeeMe Exhibition Space
2014 Royal Opera Arcade Gallery – London
2014 Asab One – Milan
Awards
2023 2nd in the 16th International Color Awards
2023 Winner
PHOTO
le plus grand concours du monde
2022 Honorable Mention
ND
Awards
2022 Gold Winner European Photography Awards
2021 Selected photographer to the 2021 Urban Photo Awards
2021 Honorable Mention 14th International Color Awards
2020 1st in the Chromatic Awards
2020 Honorable Mention
ND
Awards
2020 Nominee 15° Spider Awards
2020 Silver Prize
PX3
Prix de la Photographie Paris
2020 2nd in the Fine Art Photography Awards
2020 Finalist Creative Photo Awards
2020 Honorable Mention 13th International Color Awards
2019 Silver Award One Eyeland Awards
2019 Honorable Mention Monochrome Awards
2019 Honorable Mention
ND
Awards
2019 Honorable Mention
IPA
International Photography Awards
2019 Nominee
FAPA
Fine Art Photography Awards
2019 Honorable Mention 12th International Color Awards
2018 Honorable Mention 8th
MPA
Mobile Photography Awards
2018 Honorable Mention Monochrome Awards
2018 Winner
PHOTO
le plus grand concours du monde
2018 Honorable Mention Chromatic Awards
2018 Honorable Mention
ND
Awards
2018 Nominee 13th Spider Awards
2018 Honorable Mention
IPA
International Photography Awards
2018 Nominee Fine Art Photography Awards
2018 Honorable Mention
TIFA
Tokyo International Foto Awards
2018 Nominee 11th International Color Awards
2018 Honorable Mention
IPOTY
International Photographer of the Year
2017 Honorable Mention Monochrome Photography Awards
2017 Honorable Mention 10th International Color Awards
2017 Honorable Mention
PX3
Prix de la Photographie Paris
2016 3rd in the
IPOTY
International Photographer of the Year
2016 Finalist
PHOTO
le plus grand concours du monde
2016 1st in the
ND
Awards
2016 Nominee 11th Spider Awards
2016 Honorable Mention
IPA
International Photography Awards
2016 Finalist
CODICE MIA
Awards
2016 Honorable Mention
MIFA
Moscow International Photo Awards
2016 Honorable Mention 9th International Color Awards
2015 Nominee 10th Spider Awards
2015 Honorable Mention
IPOTY
International Photographer of the Year
2015 Finalist Photissima Art Prize Venice
2015 Finalist RomArt Prize
2015 Honorable Mention 8th International Color Awards
2014 Bronze Award International Loupe Awards
2014 Finalist Celeste Prize
2013 Finalist
PHOTO
le plus grand concours du monde
Publications
Scusate il disturbo
Scatti per Bene
Amica
Lecce Cronaca
Stefano Donno
Vogue
Amica
Fashion Network
Heribrand
Scatti per Bene
SzerokiKADR
F / Maggezien
CollectibleDRY
Mitindo
Left
Chiaramedarte
Il Fatto Quotidiano
The Way magazine
Iltabloid
Into the wonderland
Marie Claire
ANSA Brasil
Fashion Revolution Italia
I Diavoli
LensCulture
Insideart